You're Invited!
May 11th 5:00 p.m. in the President's Dining Room.
Join us in celebrating our seniors as they share their Capstone Projects. Cords and Stoles will be awarded by advisors.
---

MARÍA FLORES MÁRQUEZ
Political Science, Spanish, and LALACS


Title:

The Legacy of U.S Interventionism: How the U.S Involvement in Central America Led to the Mass Migration of Central Americans



Abstract:

This thesis explores U.S intervention in Central America and connects it to the migration of Central Americans to the U.S in recent decades, arguing that the United States government has responsibility in creating the circumstances that have led to this mass migration.



Why did you choose to Major in LALACS?
I've always had an interest in working with the Latinx community in the future, and knew the interdisciplinary courses provided through this major would prepare me well for a career in this.
---
EMILY FALK
Political Science, Spanish & LALACS, minor in History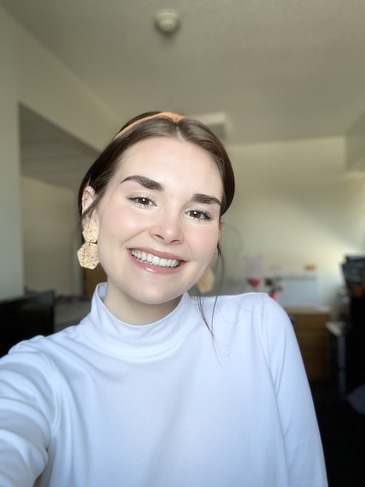 Title:
Community Organizing, Social Action & Liberation Theology in El Salvador
Abstract:

This thesis explores the role of community organizing during the liberation theology movement in El Salvador during the second half of the 20th century. 
Why did you choose to Major in LALACS?
I chose to major in LALACS because of my interest in Latin American culture, and politics. Furthermore, because the interdisciplinary courses within the major help me understand the broader picture, and help me to foster my own intercultural communication skills. 
---
JOSH WILSON
Communication Studies & LALACS, Minors in Spanish and Film & Media Studies

Title:
Deconstructing Stereotypes: The Religious and Spiritual Practices of Minnesota's Latinx Population
Abstract:

This study aims to deconstruct the stereotype that Latin Americans come from a Catholic background and show that there are a variety of religious identities and spiritual practices. Through an ethnographic study, interviews were conducted with Latinx / Hispanic pastors, members of congregations, and volunteers at Latinx / Hispanic and Spanish-speaking churches in Minnesota. This study, along with the background research, will reveal the religious and spiritual practices of Minnesota's Latinx / Hispanic population.
Why did you choose to Major in LALACS?
I found LALACS during my third year at Gustavus and decided that the program would enhance my comprehensive knowledge of Latin American culture and language. As a student of the major, I was provided with opportunities to learn from Latinx populations and recognize the importance of cultural studies.
---
JORDAN OLESON
Biology, Spanish & LALACS, Minor in Religion
Title:
The use of religious imagery during the catechization of the Inca and its effects
Abstract:

In colonial Peru, the use of symbols and religious imagery, specifically the Crucifixion, Our Lady, and sacrifice during the catechization of the Inca had a negative impact on the development of cultural perspectives with regard to acculturation, forcing Catholic perspectives. This process resulted in the suppression of the culture and traditions of the Indigenous peoples in favor of the transculturation process to European values.
Why did you choose to Major in LALACS?
I majored in LALACS to supplement my education with the development of skills to learn about, comprehend, and interact with the Latin American region and the people that inhabit it.
---
COLLIN PERKINS
Psychological Science, LALACS and Spanish
Title:
The Exploitation of Guatemala and its People
Abstract:

The following thesis explores the exploitation of Guatemala from the colonial period to the present. Special attention is given to the United States and its exploitative practices beginning with the United Fruit Company land takeover and the creation of monopolies in the transportation industry.
Why did you choose to Major in LALACS?

I majored in LALACS because I thought it would be a good pairing with Psychology and Spanish. Additionally, in order to be a competent Spanish speaker, it is important to have an understanding of the Spanish-speaking world.
---

ISAIAH BOUDREAUX
LALACS


Title:
Latinx Representation in U.S. Media
Abstract:

I'm interested in how the Latinx demographic is represented in the U.S. Media, particularly television and film. I analyze common stereotypes and their representation on screen as well as how they are challenged by specific directors, actors and/or cultural agents.



---
OLIVIA BRUSE
Geography, Spanish & LALACS
Title:
Placement of Cristo Rey High Schools in Urban Spaces for Youth Access and Opportunity
Abstract:

This thesis studies Cristo Rey private jesuit high schools set in urban settings. While there are 37 schools within the network they all have the same mission statement and goals and a strong dedication to their communities. I focus specifically on the Chicago school founded in 1996 and the Minneapolis school founded in 2007. I am interested in the dynamics and influences of the neighborhoods present in the lives and experiences of the adolescents attending these schools, particularly what kind of similarities might there be between the location and demographics of community. 
Why did you choose to Major in LALACS?

I had planned to minor in LALACS, but after learning I had time in my 4-year plan to complete the full major, I took the opportunity. I went to a Spanish immersion school as a kid, so adding this major felt natural. I think it does a great job of bridging my other majors of Geography and Spanish together because of the range of courses you can take. I have also really enjoyed my internship for LALACS in my last semester.
---
CONGRATS TO OUR 2022 LALACS
MINORS
---
TIMOTHY HIRSCH
Biology, minor in LALACS
---
MATTHEW PAYNE
Environmental Studies & Spanish, minor in LALACS
---
OLIVIA KUNSHIER
Psychological Science, minor in LALACS
---
RACHEL ERICKSON
Economics & Spanish, minor in LALACS